The 10 Dutch agri-food startups of the ScaleNL Connect: Chicago 2023 program
🌱We are thrilled to announce the cohort of promising agri-food startups for the ScaleNL Connect Chicago US Market Entry Program! 🚀🌽 🚜
These innovative companies were carefully selected for their disruptive solutions that aim to revolutionize the agri-food industry and drive sustainability, efficiency, and positive change. The program, organized by ScaleNL and the Consulate General of the Netherlands in Chicago, supported by the Netherlands Enterprise Agency (Rijksdienst voor Ondernemend Nederland) in partnership with the Ministry of Foreign Affairs aims to prepare these scaling startups for US market entry.
The Chicago edition of the ScaleNL Connect program will run from June to end of July 2023. The content of the program has been built around the IFT First trade show taking place in Chicago, the agri-food capital of the US. The 10 Founders joining the program have been selected based on their current Dutch and/or European success, as well as their potential for growth in the US market.  
🌍 Let's meet the inspiring startups, in alphabetical order:
1️⃣ 1-2 Taste – Two-sided B2B platform making food ingredients accessible to SMEs, accounting for 50% of the industry ($400B worldwide).
2️⃣ Elfsquad – B2B software solution for the food manufacturing industry, enabling sellers and buyers to configure complex products without errors.
3️⃣ FUL Foods – Ful foods is decarbonizing protein production by harnessing over 3kg of CO2 from waste streams per kg of protein produced, cultivating microalgae and revolutionizing biorefining for sustainable protein production.
4️⃣ Greencovery – 20% of food is lost during processing, representing an estimated 4% of food company revenue loss. Greencovery enables food companies to upcycle ingredients to reduce their environmental footprint and create more value.
5️⃣ OneThird – OneThird is addressing the $1T food waste problem by providing real-time shelf life information to help suppliers make smarter operational decisions and eliminate 25% of their food waste and costs.
6️⃣ PEAX Data – AI solutions targeting the food waste accounted through supply-chain inefficiencies- about 30% of food waste.
7️⃣ Pectcof – By upcycling otherwise discarded coffee pulp, Pectcof secures an abundance of value-added ingredients for the F&B industry, which suffers from poor supply security.
8️⃣ Revyve – Creating ingredients from single cell proteins through a process that unlocks unique functionalities such as heat-set gelling, emulsification and more.
9️⃣ Sensip-dx – Detecting the presence and amount of live bacteria in food in 15 minutes instead of 2-3 days, reducing food waste by increasing the efficiency of food production and getting food from farm to fork faster and fresher.
🔟 Soilbeat – SoilBeat is a cutting-edge platform for regenerative advisors and farmers that provides powerful diagnostic tools for optimal treatment plans, streamlines farmer engagement, and leverages AI and machine learning to drive profitable regenerative agriculture.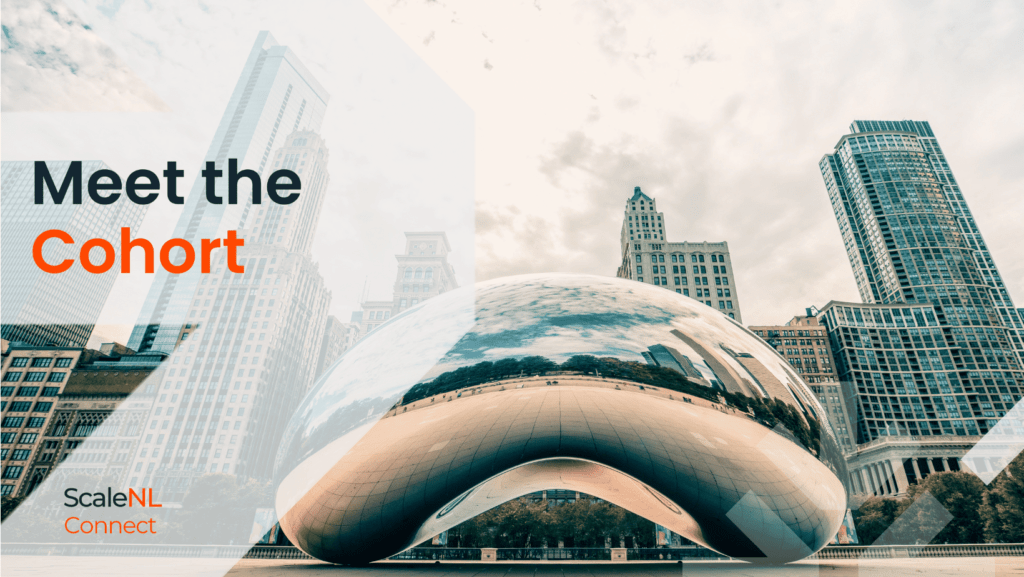 These exceptional startups were given the unique opportunity to participate in an intensive US market lead generation program, gaining access to industry experts, mentors, investors and a vast network of stakeholders. The ScaleNL Connect Chicago program will provide tailored support to overcome the initial complexities of entering the US market and accelerate their growth.
🎉Congratulations again to all the selected startups who are driving a more sustainable future for the agri-food industry.
Let's support these promising agri-food startups on their journey, follow along on LinkedIn! Together, we can create a sustainable, resilient and inclusive future for the agri-food sector.
ScaleNL is the first public-private organization that helps Dutch Tech pioneers scale into the US Market with access to a dedicated network of Founders and mentors, a US market entry Academy of courses, and tailored events and programs. Apply as a Founder or mentor to join the ScaleNL Ecosystem here.